Track every customer touchpoint
SingleView offers greater insight into how your digital advertising campaigns are performing, enabling you to optimise activity and eliminate wasted spend. While you can do this across a variety of individual reporting platforms, our multi-touch reporting aggregates it into one easy-to-use platform for a single source of truth.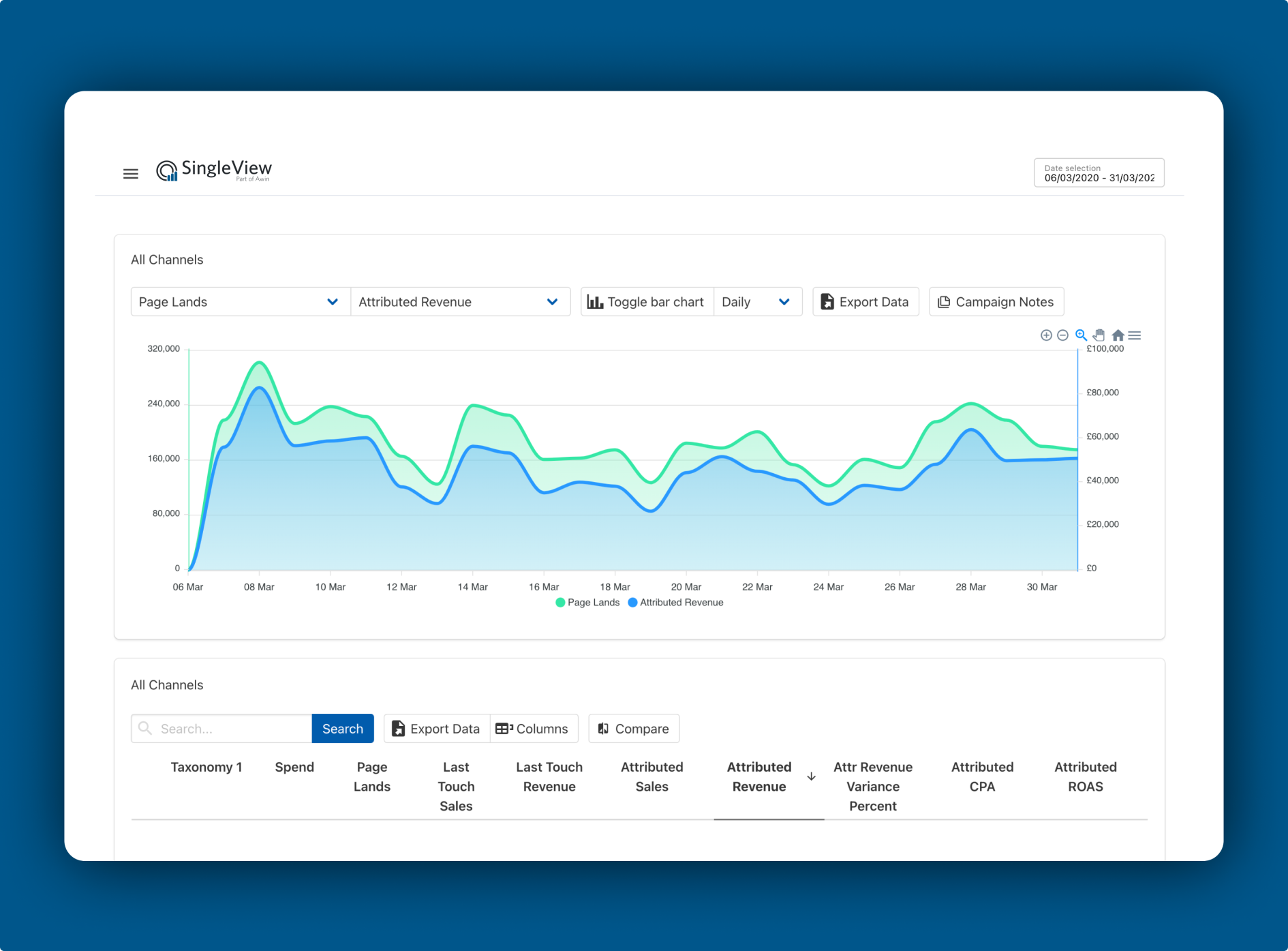 Solutions
Multi-touch attribution
SingleView provides a complete understanding of what is working and connects the dots of all marketing efforts, from the very macro level of a business - removing departmental silos and establishing a common view across channels - down to the micro levels that involve scrutinising the success of individual campaigns and keywords. This empowers you to make strategic decisions around marketing investment.
Book a demo Cross channel reporting
Affiliate performance
Attribution performance report
Funnel reporting
Journey paths
Cross channel reporting
See clearly how individual channels influence your customers and identify the strengths of each with information on funnel impact. Overlay these insights with first-party data to discover the true source of your customers and revenue. Aggregate data on a channel level, or deep dive into individual campaigns and keywords.
Deep dive into cross channel reporting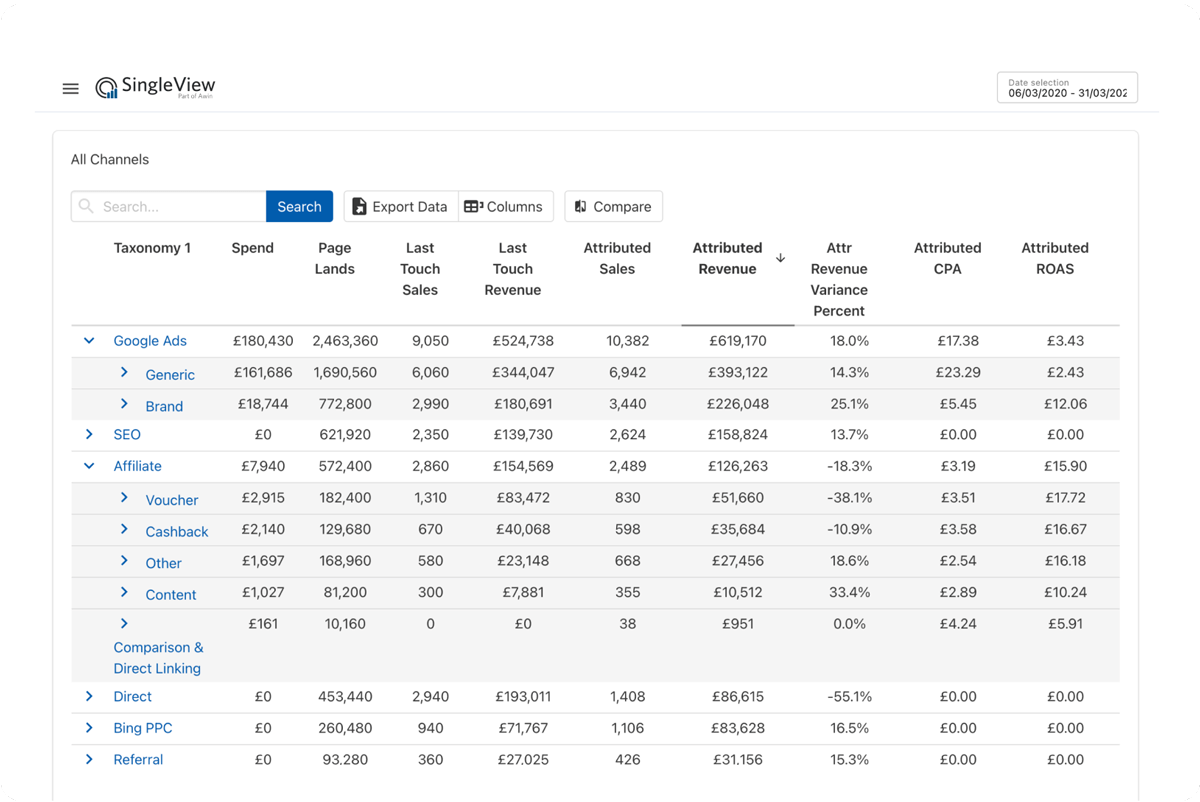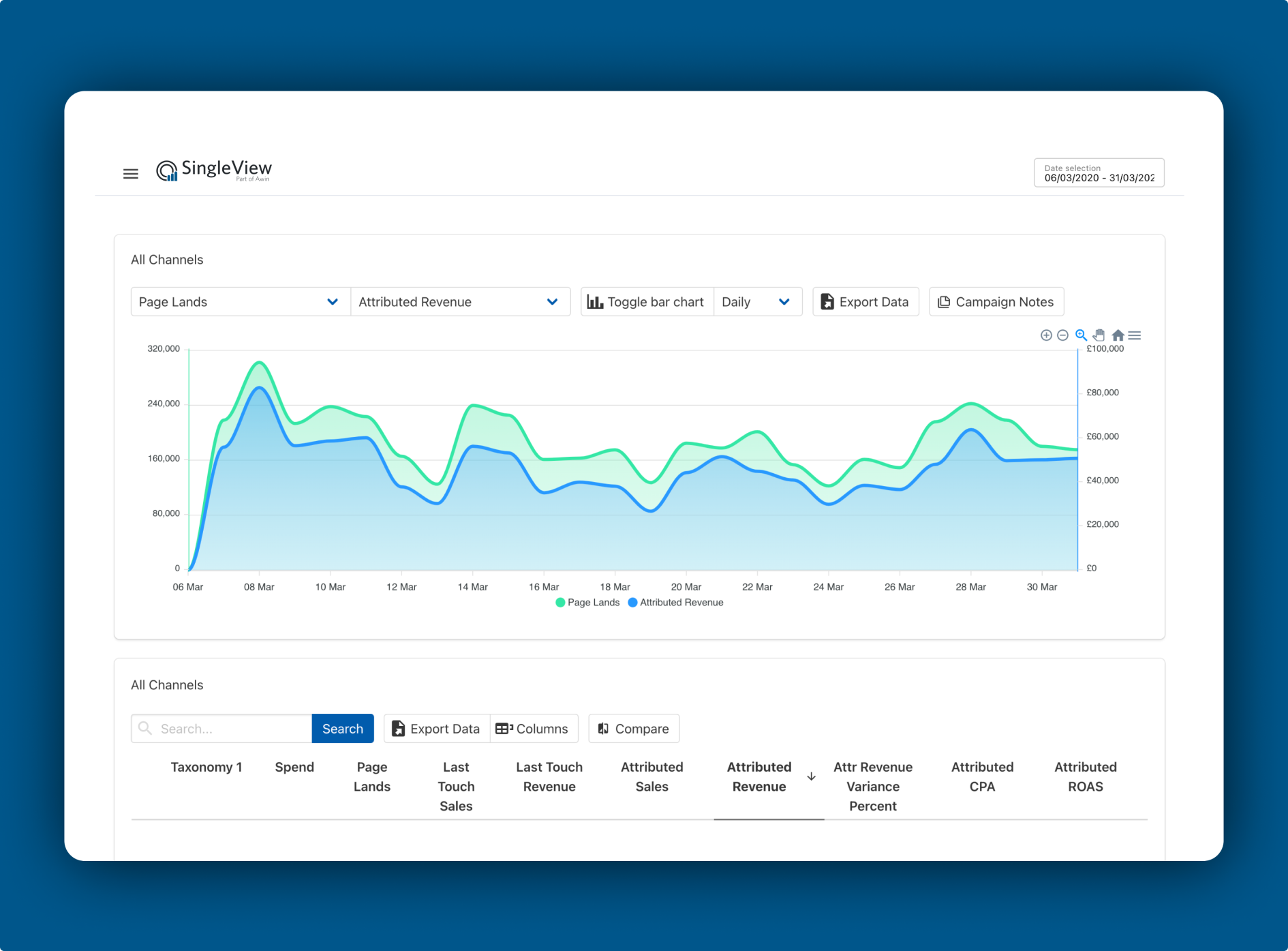 Tailored insights
SingleView provides you with a deeper and wider contextual analysis of your marketing activities across multiple channels, giving you insight into which channels work best for you. Our clients receive best practice guidance and our open and transparent approach ensures you fully understand your data and how the algorithm delivers recommendations.

Integration partners
Our out-of-the-box integrations help to seamlessly incorporate your digital marketing activity into our platform
Google Ads
Awin
Facebook
Microsoft Advertising
Google Ads
SingleView's Google Ads integration allows you to see beyond metrics like clicks and CTR, giving insight into which campaigns, ad sets and keywords are driving sales. You can easily track total spend across your account and drill down into campaign performance data.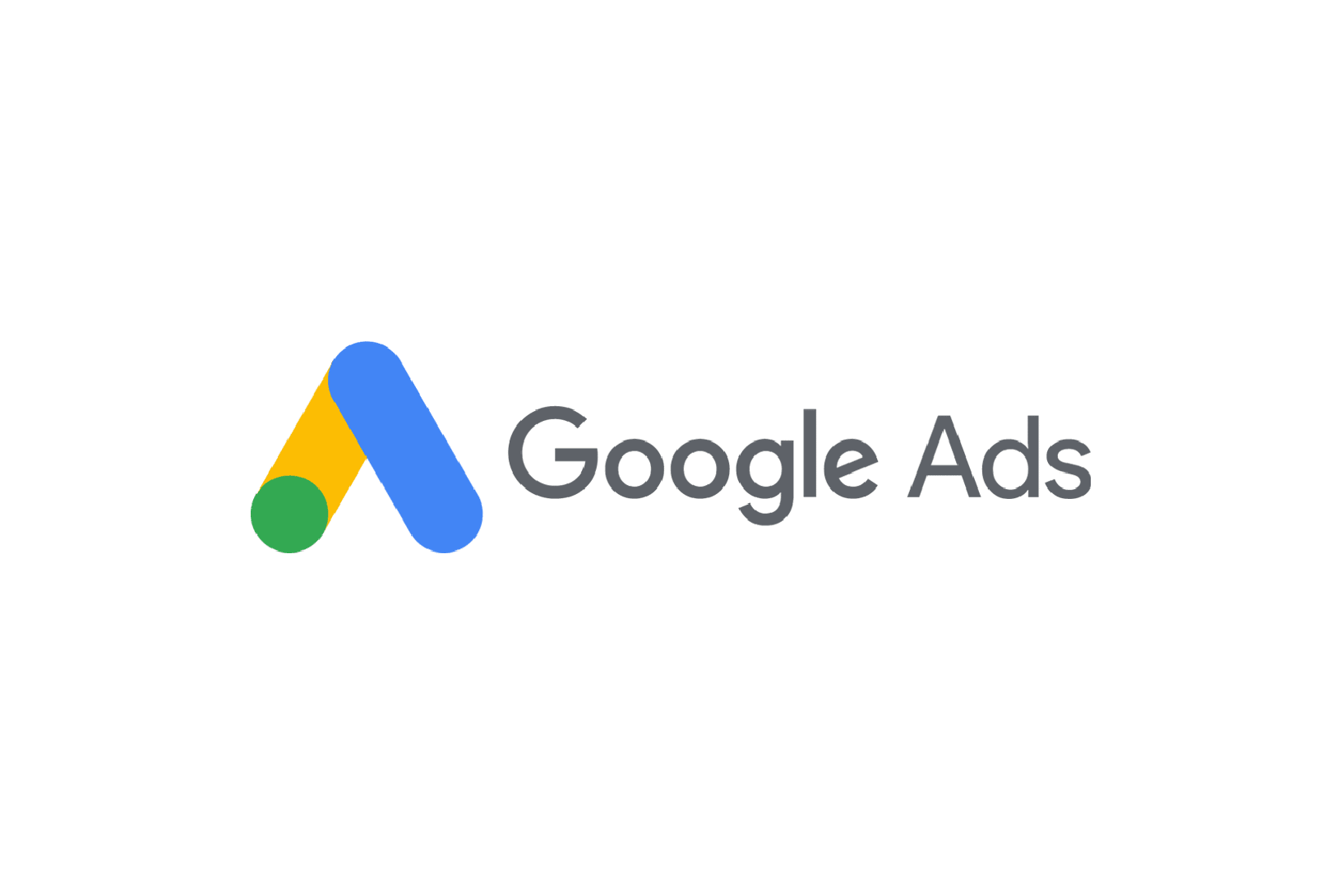 Pricing
Know exactly how your activity is driving value with SingleView
Gain clarity on how effective your marketing activity really is with our flexible packages. Our team of attribution experts can support you every step of the way, making recommendations and providing wider insights into your data.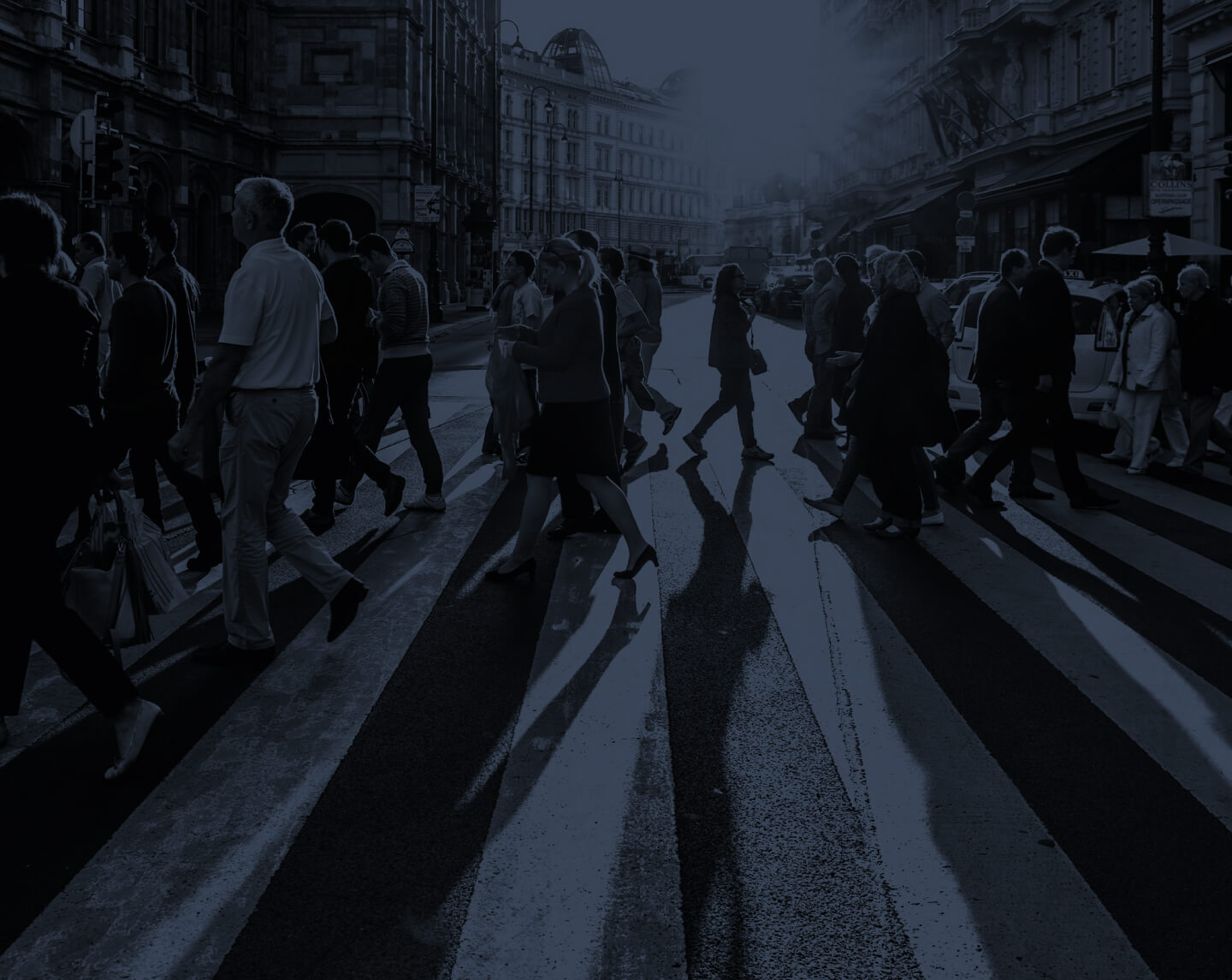 Track, measure and reward the actual effect of your partners and digital campaigns
Look beyond last-click measurement and empower your team with actionable insights via an easy-to-use platform. Discover why SingleView is the leading multi-touch attribution solution.
Start using SingleView today